Organic wine estate in Lot et Garonne
Presentation:EARL MAURO GUICHENEY
The Domaine Mauro Guicheney is located on the hillsides overlooking the Castle of Duras, offering the best possible exposure for growing their grape varieties including mainly merlot.
Since the beginning, half a century ago, our family has worked to cultivate its vineyards with respect for traditions and the environment. We cultivate with passion and savoir-faire the 30 hectares of the family estate in AOC BORDEAUX & CÔTES DE DURAS. We produced our first organic vintage in 2011.
It is not by luck! We are both passionate about vine cultivation, we took over the family farm in 1990, where we strive to work as our elders did and take care of our vineyards every day to reveal our beautiful terroir.
Organic farming is simply recognition. The success is there: each of the 7 wines presented is exceptional!
The new cellar, designed and equipped to accommodate this first vintage, is equipped with all modern technology, but it is careful work that makes the difference and the quality of the wines we produce.
Presentation : Department
Products families
Fruits, vegetables & aromatic herbs
Wines, spirits and other alcoholic beverages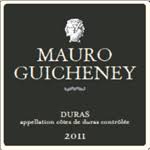 LIEU DIT
47120 Villeneuve-de-Duras
Phone:06 89 37 41 75
Bio Sud Ouest France approved products
---
Where to find approved products from EARL MAURO GUICHENEY ?
---
Find soon the map of the points of sale of the products EARL MAURO GUICHENEY