Objectives :
The Bio Sud Ouest France brand is managed by the regional organic interbranch association, INTERBIO Nouvelle-Aquitaine and is supported by Nouvelle-Aquitaine region. It is part of the priority actions chosen in the Regional Organic Pact signed between the Public Authorities and the organic profession.
It was created to:
promote a local production and supply;
support contractual relationships between regional organic producers and processors;
provide clear identification of organic and regional products with a label.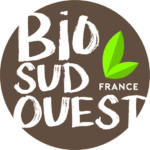 As a reminder, organic products are certified according to the European organic regulation. Bio Sud Ouest France adds the guarantee of the regional origin of the products as well as providing a fair marketplace for producers, processors and distributors.
Fill out the online accreditation application form
Guarantees :
Bio Sud Ouest France guarantees :
1/ Certified organic products
Before being able to apply for Bio Sud Ouest France approval, the operator must be certified in organic agriculture by a control body, in accordance with the French or European regulations in force. (Ex: Ecocert/ Agrocert/ Bureau véritas etc.)
2/ Raw materials from the South West of France *
Bio Sud Ouest France products must contain a minimum of 95% ingredients from the South West of France (100% of the raw materials forming the sales name of the product, excluding flavourings and 95% of the weight of the agricultural ingredients that can be produced in the South Wes).
3/ Products processed in the South West of France *
In addition to raw materials, the Bio Sud Ouest France brand also imposes the processing of the products in the South West of France in order to offer the consumer a 100% regional product!
4/ An independent and qualified control by a certifying body
In order to ensure compliance with the specifications of the trademark, each authorised operator is checked once a year by an independent certifying body. This control body goes through the invoices, the stock and the origin of the raw materials amongst other things.
5/ A commitment to the fair remuneration of producers through a contract
In the interest of fairness and fair remuneration for operators in the sector, the Bio Sud Ouest France brand requires companies to have a contractual commitment with their supplier(s) in terms of volume, duration and price.
(*) Sud-Ouest : Aveyron, Charente, Charente-Maritime, Creuse, Corrèze, Deux-Sèvres, Dordogne, Gironde, Gers, Haute-Garonne, Hautes-Pyrénées, Haute-Vienne, Landes, Lot, Lot-et-Garonne, Pyrénées-Atlantiques, Tarn, Tarn-et-Garonne, Vienne.
For more information, consult the rules of use of the brand Bio Sud Ouest France